Get the most from your garden this year. Yield & Shield™ can be applied to the soil when planting and throughout the growing season.
Improves nitrogen uptake and promotes healthy plant growth.
Enhances root development and nutrient assimilation.
Regenerates contaminated soil from glyphosate and other harmful herbicides.
Increases plant yield.
HOW YIELD & SHIELD™ works | LEARN MORE
Yield & Shield™ is a soil and plant probiotic with both plant growth promotion and soil restoration properties. It helps support the soil and improves nutritional uptake in plants to increase yield in a natural, organic way without the use of chemical fertilizers.
Our formula comes from the wealth of lost biodiversity of ancient and unique environments. Our strains have been isolated from ancient amber resins and deep-sea cores to restore natures power to your plants. These rare strains are genetically unique and provide a rich guild of biodiverse plant to soild health functions.
Yield & Shield™ is a rationally designed guild comprised of 6 bacterial strains specifically selected based on their ability to be sustainable, promote plant growth and decontaminate soils from glyphosate and other harmful herbicides that might be present in the soil.
This product is available for a limited time and starts shipping in early May every year.
Each bottle contains 8 fluid oz. and approximately 4-8 applications. It can be applied when planting and/or throughout the growing season,
INSTRUCTIONS FOR 1 GALLON SUSPENSION:
Dilute 2 tablespoons of Yield & Shield™ concentrate in 1 gallon of water and mix well. Spray liquid over the surface of the planting area and work lightly into the soil. This ensures the solution is well-mixed and the soil is aerated. Repeat process for the second application.
USE: 1 gallon of Yield & Shield™ working suspension is sufficient for a garden plot measuring 4 by 8 feet (32 square feet).
The organic way to get more from your garden without the use of chemicals.
Try Yield & Shield™, our best-selling probiotic for the earth. It rejuvenates your soil, increases yield, and fortifies your garden naturally. Apply when planting and again in about four weeks. It's so easy and "Mother Earth" will thank you with a bountiful harvest. Enjoy a healthy harvest.
Regular price
$39.99
Sale price
$39.99
Unit price
per
Sale
Sold out
30 capsule count
View full details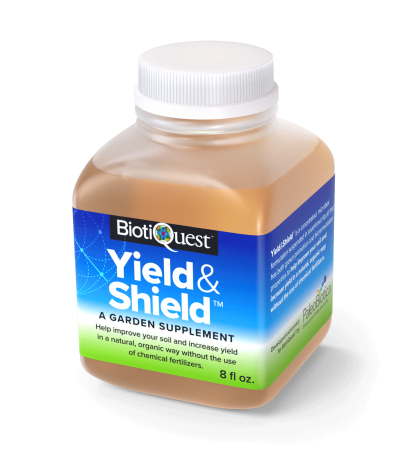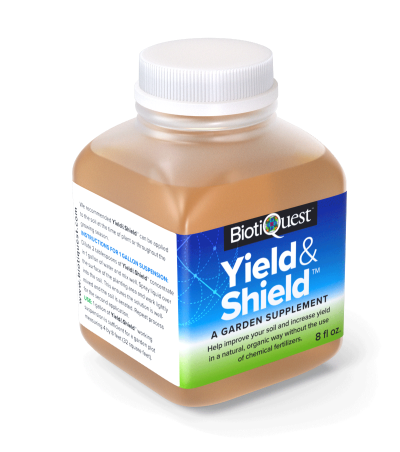 Learn more from Martha Carlin about probiotics for the plant, and soil remediation and more.